I made a long soapboxy post…then took it off, because there was at least one big hole in my thinking. Of the "There's a hole in my thinking, dear Liza, dear Liza" variety, that could not easily be fixed. So, although I'm convinced there is something I want to say, I'm not sure exactly what it is yet.
In between thinking like Henry's bucket, I've been drawing a minotaur. I took this picture as a memento before starting the hands, because hands are Mr Cockup's favourite rendezvous point.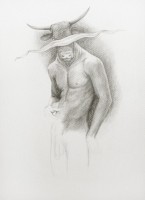 I'm glad I took the picture, because it shows me clearly what I evidently couldn't see by looking at the original, namely that there needs to be a dark shade on the head — or possibly around it, but up there somewhere — I'll try out both in Photoshop and see which works — to balance out those two heavy dark areas, or the viewer's eye will keep getting drawn to the elbows rather than the head. A couple of places could do with sharper definition lines, and that eye needs to be something other than white. It doesn't matter if it doesn't stand out very distinctly — the white looks too undead.
This is my first time using a blending stump. I over-used it on the torso, but basically I like it, especially on a drawing like this where I want the subject to look solid and still.
Anyway, tomorrow…hands.