I did it! Laid my first egg!
Straight out of the lousy mould — this was the one where I reversed the ratios of plaster and water: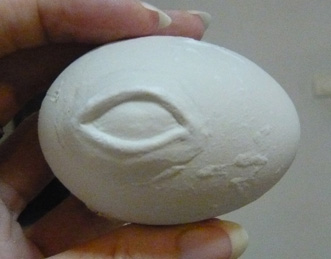 Cleaned up: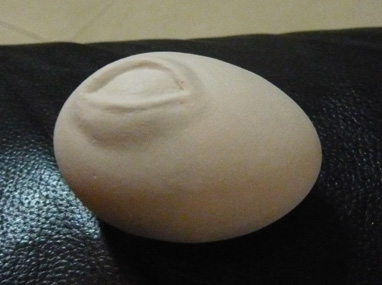 The arm egg piece after sanding. The clay came up pretty shiny, and that was just with a single grade of fine sandpaper. Hard to get into the lines, though — really need an electric tool: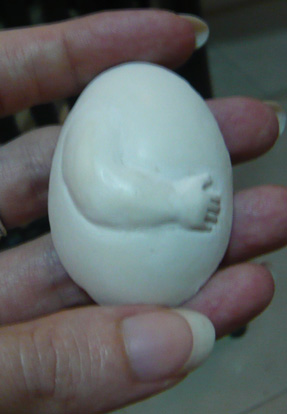 Since the slip is porous — I think it's a kind of papier mache — I daubed some sandalwood oil on a piece to try scenting it. I'll see if the scent sticks around — might be fun. If it does stick I could go BPAL crazy.
I'm feeling pretty celebrational. My next goal is a quality mould that produces a cast requiring no work except cleaning off the mould lines and filling the pouring hole. And to finish 'Looking for Aldebaran', aka Minopotataur. Poor little guy's been waiting for his fingers for much too long.
N.B. This mould was made from the plaster I got from the art supply section of B2S. Maybe real ceramic slip needs real pottery plaster, or maybe plaster of Paris is fine, just not optimal? One thing I have to watch out for is evenness of water absorption. The wall of the half-shell piece varies from about 1-3mm, which I'm guessing has to do with how I mixed the plaster and/or the WD40 that no doubt got into the mould.