House hunting has been chewing up a lot of my time, but I've still been getting some art done. My skygazing minotaur is pretty well finished. I just need to decide whether to put him on this base or stone.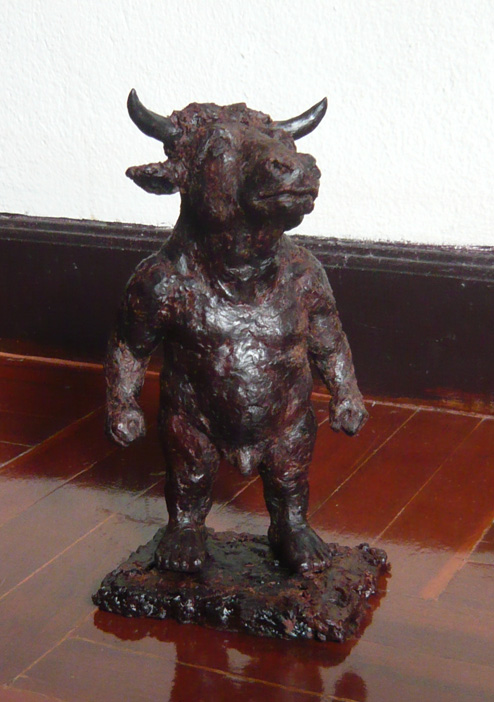 It came back to me recently that one of my earliest career ambitions was to make movie creatures for the likes of Jim Henson and George Lucas. As a kid, Dr Seuss, the Muppets and Star Wars were probably the biggest influences on my imagination. I was always drawing fantastical critters, and my fascination with imaginary beings has never faded away.
Trying to dig into why they charm me so much, I've come up with various answers. They inhabit various states between being and nonbeing, and so can represent our own strange existence between birth and death, unconsciousness and consciousness in its various degrees. By creating them physically, we cause them to exist a little more solidly, somewhere between dream and waking — even if their waking is only a projection of our own.
The more abstract little entities I've been making, the eggs and balls, are intermediate life too — and thinking of them in this way makes me think of all art like that: it's less than life, but more than a mere thing; art encourages animism — leading back to the point that all life forms and all identities are intermediate, in terms of evolution, the life cycle of an organism, and the passage between life and thing (dead/inert matter).
None of this explains the charm of imaginary beings and kinda-beings, though perhaps it helps to explain some of their power over the human imagination in general, since from intermediate to intermediary is a short step, making them ideal conduits or guides to other worlds or states of consciousness. (The word "monster" derives from the Latin monstrum, "an omen, supernatural being or object that is an omen or warning of the will of the gods.")