Coming out of hole to say that Last Drink Bird Head, awesomely imaginative flash fiction for literacy, is available for pre-order:
What Is Last Drink Bird Head?
That's the catalyst editors Ann and Jeff VanderMeer provided to over 80 writers in creating this unique anthology, with all proceeds going to ProLiteracy.org. All each writer got was an email with "Last Drink Bird Head" in the subject line and the directions "Who or what is Last Drink Bird Head? Under 500 words." The result? Last Drink Bird Head is a blues musician, a performance artist, a type of alcohol, a town in Texas, and even a song sung by girl scouts in Antarctica. Famed designer John Coulthart did the interior, which features bobbing bird heads in the corners of the pages, so that the antho is also a flipbook.
Cover image: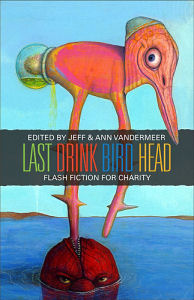 As I said in my earlier post, the contributor list is awesome. Having been given permission to include teasers in this advertisement, my piece is actually 5 short pieces, one of which is a poem that starts like this:
In the land of the thundercloud
on that most open of pinion ayeways, that scraaa-aa-apes down
from Hrim Town of the iron filing cabinets, iron horses, iron heads,
longbows, curfews, depressions, down to Hum,
known for its many used Tarota dealers
(& the astonishing aerial ballétopétomachia, held every June at the Grand Opera),
the goondas' silver trail, the high and cold
gutter down the roof of the world,
which the gamblers call Rue Misère Ouverte or Miserie op Tafel Straat,
and the shills—not a damn one that speaks except in tongues—
call the Dill's Doodweg—passes through Last Drink Bird Head,
where the deciduous Marquis, to prove
that a white Borsalino was the real thing…
(The Marquis, Borsalino held over heart, smiles winsomely, bats a silver-sugared eyelash, and whispers that you might like to buy the book…)
* * *
While I'm out of the hole, I'm looking at artist Melli Ink. Glass skeletons, insects, savage plants…  And at the bottom of this page, the poem Blue Horse, by Masako Takiguchi.
I was going to go back in the hole and close comments off this post, but changed my mind. In case comments help sales, or the Marquis needs to say more, or something.