I'm so glad I stumbled across the works of painter Heather Nevay. Born in Glasgow in 1965, she studied at the Glasgow School of Art. Her paintings are rich and detailed and replete with symbolism, often featuring children (with faces like early Northern Renaissance portraits), surprised, as writer and film maker James Burge puts it, "in the middle of some incomprehensible ritual, staring out at us with hostility and contempt."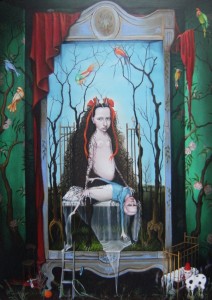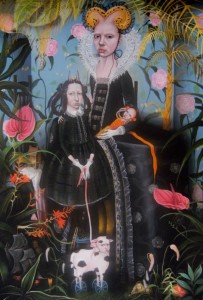 The Sleeping Boy and The Mourning of Mister Lambe from Nevay's exhibition this month at The Portal Gallery.
Nevay says: "I'm interested in the games in which children take part which fall into traditional roles and activities. I look at the duplicity of the play which is often the cause of misinterpretation of adult onlookers. I am not storytelling but I want to offer a glimpse of a scene which will continue after our gaze has moved on. I don't want to paint horrific scenes, but sometimes I have to create an atmosphere of uncomfortable feelings."
Heather Nevay's home page — lots of pictures, and the bio includes the article quoted above.