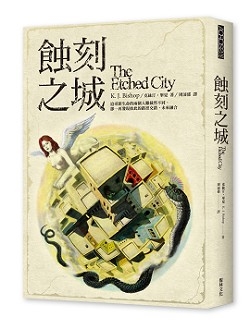 A nice beginning to the year: The Complex Chinese edition of The Etched City (蝕刻之城 — "shi ke zhi cheng", I think — hope I'll be able to find out how to say it properly), is out from Fullon Books in Taiwan, with a way cool cover — and a promo video. (Technically it's out on 7th January, but it's available for order now). Complex Chinese covers Taiwan, Hong Kong and Macao, though not mainland China. Translations are exciting and wonderful things, and I feel enormously lucky to have had my work published in other languages. And it's really a thrill to be published in Chinese — a thrill from the bottom of my DNA, because I feel like a butterfly has taken my pollen to a distant garden. Where it might get blown away by the wind, or washed away by the rain, but hey, I'd rather just think about the butterfly. So a toast for the New Year to Zhou Pei Yu, who translated the book, and to translators everywhere. And a second drink to Gray Tan, my agent in Taiwan, and Danny Lin, who recommended the book to Gray, and to Fullon Books and the cover artist, whose name I hope to find out — I really dig that picture.
* * *
New Year plans and resolutions:
Last night was fun. Watching fireworks go off behind tall buildings is strange — at first you can't see much, then as smoke fills the air the coloured flashes light up the smoke. Had a conversation with a guy who taught motorcycle riding, with the consequence that my major New Year's resolution is to take the motorbike taxis less often and limit my use of them to short rides down quiet streets or very congested sections of main road (which used to be my rule, but I got a bit blase last year). What he had to say about falls and injuries was a timely reminder that Motorbikes Are Dangerous. Terribly convenient in this city, but this year I'm going to try to allow enough time for cabs and Shanks's pony instead.
My other resolution is to read a book a week. Last year I probably only read one a month. I've gotten started on this — read Patrick White's The Solid Mandala last week, now reading Radical Alterity by Jean Baudrillard and Marc Guillaume.
Travel plans: Australia in March and maybe again in October or November. Hopefully Kathmandu and surrounds for a week in February.
Writing: Still working on new material for the collection. It's getting there. I'd really, really like to have this thing sewn up by midyear. The Floating World is the other major project. I won't be taking on anything else — unless for one reason or another it's irresistible.