I made a silicone mould and got an object out of it — yay! The silicone was quite viscous, had to be stirred before mixing with the catalyst, and I got it absolutely full of bubbles. None of them affected the mould where it was in contact with the object, but I think I'd have been in trouble if the object had been more complex. The bedding clay — good old Unleaded Toxic Soil — left a residue on the mould, which may have been a good thing, as the mould release didn't seem to do much and I had a lot of trouble separating the halves; I suspect the clay film was the only thing that stopped the silicone sticking to itself. I've asked the supplier how many coats to use — I assumed 2, but maybe more are needed with this stuff. It's also possible that there was air in the can and not enough actual spray came out. Maybe I could use mould soup between the halves? (Doug, if you're reading this, do you have any tips?)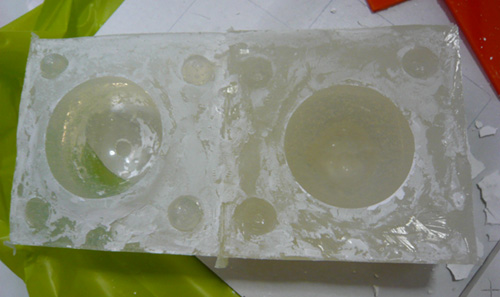 I also screwed up and didn't leave enough room for a pouring vent, so I just cut a hole in the top of the mould. And poured some plaster in to see what would happen:
Not bad, I reckon. The little holes in the plaster are from bubbles in it, not in the mould. (The back's yucky; the plaster didn't fill up the mould, due to trapped air I guess, but I think a runnier liquid would be fine.)
This mould is too small to use for porcelain, I've realised, due to shrinkage of the latter, but I can use it for resin, which can then be worked on and used as a master for bronze or other metal if I want to. I need to get a bigger sphere to make the model for the porcelain version. I'm also looking into brush-on silicone as a cheaper alternative to pouring.