This shrub is a stunner if you ask me — lovely foliage, and look at those flowers! They have a deep red, velvety appearance that the photo doesn't quite capture. Since I bought it last week it has been flowering constantly and profusely. The only question is, what is it?

The label said maple something and the seller said it was a maple, though she may simply have been telling me the only English word in its Thai name. At any rate, I thought, I ain't never seen a maple with flowers like that.
Quite a bit of sleuthing later, I found this image from an equally perplexed person — my plant, but a different colour. I had to agree that the flower looks like a hibiscus. After a bit more searching I'm pretty confident that it's a Hibiscus acetosella, aka maple leaf hibiscus, red-leaved hibiscus, African rosemallow, false roselle, cranberry hibiscus, maroon mallow and red shield hibiscus. I've seen pictures of the pink one with leaves just like this plant, and another with flowers this colour but more maple-like leaves — but maybe the leaves change shape as the plant gets older. Apparently it grows several feet tall and needs pruning to prevent it becoming straggly. I will be delighted if it grows big.
This brunfelsia shrub looks rather unassuming at the moment…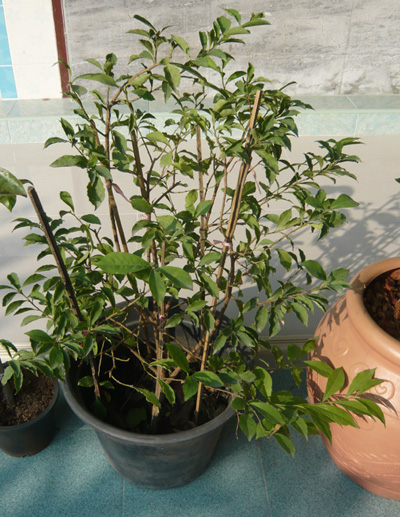 …but in full bloom it could potentially look like this. A member of the nightshade family (again!), brunfelsia is known as the Yesterday, Today and Tomorrow tree for its flowers, which start off purple and fade through lavender to white, with all three colours appearing on the plant at the same time. I bought it at the Or Tor Kor plant market near Chatuchak. I like its natural, shrubby shape, though it has a lot of branches growing in one direction. I've turned the other side to face the sun and cut back one branch that just looked silly.