Well, not dangers, except for some hot wax and sharp knives. But I must have said it was going to be a piece of cake, as technical difficulties haven't exactly hung back shyly in the wings. Anyway, Mino is now at this point: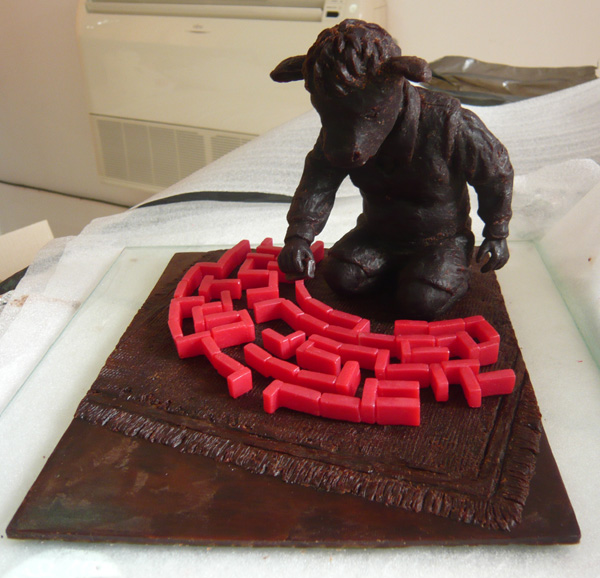 I cast the bricks in wax because they were pretty rough looking and covered in blobs of glue, and the wax is easier to clean up than the paperclay the originals were made of. The base is made of slightly softer wax than the bricks, so I was able to leave it out in the sun until the brown wax softened, then press the bricks into it (the flat part of the base acquiring some blisters in the process! Don't know if I'll be able to flatten them without making it worse — might have to leave them and call it added character). What remains is make sure all the bricks are 100% sealed to the base so that there are no gaps underneath them for silicone to flow into.
I also finished Squashy's mould and poured some waxes. The wax just doesn't want to flow into the tips of the horns. I thought it would be ok, as they're right at the bottom of the mould, but I guess it's too hard for trapped air to get out. There are a couple of things I can try, and if they don't work I'll have to decide between individually repairing each piece's horns, or casting the horns separately in two-piece moulds that I can paint the wax into. I suspect the first option will be faster.