The two squashies and egg are ready for the foundry, so all the pieces I'm planning to take to LonCon are done. I might have missed the boat with these last three, but we'll see.
I had a go at cold cast bronze. When it comes out of the mould it looks like brown plastic, and has to be sanded back to reveal the goldy colour of the bronze.  I'll need to at least add black dye to the resin to make the unpolished areas darker, and if using patina I might have to sand the whole piece. I don't know yet whether the time spent sanding and finishing will be worth it.
I do want to try cold casting with marble and porcelain powder. Not to mention glow in the dark pigment…
Meanwhile, I've tried casting a two-colour squashy. It didn't quite work as planned… I like the second one, which is the phone seeing things. I couldn't repair the horns, so the only option is to file them down.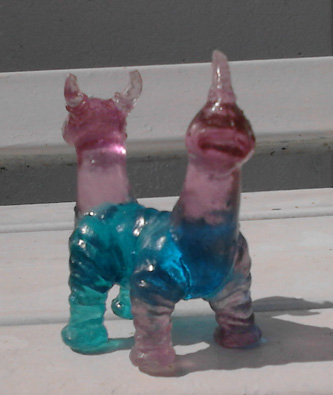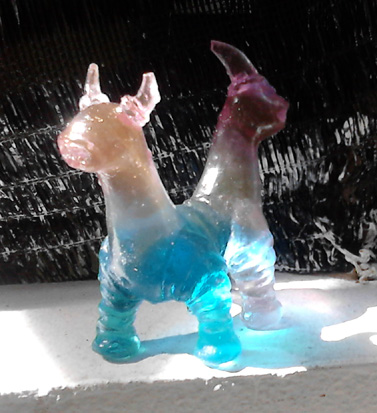 Found a cool Tumblr site, beinArt Collective, founded by Jon Beinart, devoted to strange figurative art.
I also want to mention Arch Enemy Arts, a Philadelphia gallery which puts out calls to artists for themed exhibitions. The current one is "Artificial Intelligence", deadline 11 July, details here. Arch Enemy "is dedicated to exhibiting emerging and established artists focusing on lowbrow, pop surrealism, realism, decorative, figurative, urban, macabre and narrative style art in a wide range of mediums."
And finally…
Could mental cheese be the precipitate of brain fog?