Last night I was watching videos on how to make Greek desserts. Today I could think of little else. So I went out and got the ingredients for galaktoboureko, semolina custard in filo pastry, and came home and made it. We only have a small convection oven, so I bought a baking tin to fit it and made half the recipe, which was basically this one on Greek Recipes TV. Instead of heating the milk with orange peel I added lemon zest to the mixture a la Angelo's Mom. However, I didn't make the sugar syrup. I made one out of honey, lemon, water and a bit of cinnamon. I think just plain honey drizzled on top would be fine. The custard pastry is nice on its own, I didn't think it needed a lot of extra sweetener.
Our oven tends to overcook and burn things on top so I lowered the temperature a bit for most of the cooking time and covered the tin with foil after the pastry had browned. Then wrestled with the foil as the oven kept hoovering it off. Next time I'll wrap it under the tin.
Other than that, I was pleasantly surprised at how easy this dish was to make.
The result? I submit that it looks like food. It also tastes like food. Rather nice food. My semolina custard came out a bit rugged — I had no choice about the grade of semolina, so it might have been too coarse (could try cornflour instead next time), or maybe it was something else I did — but it still tastes fine. Next item in my sights is the classic Australian vanilla slice (which is like a cross between a millefeuille and a brick).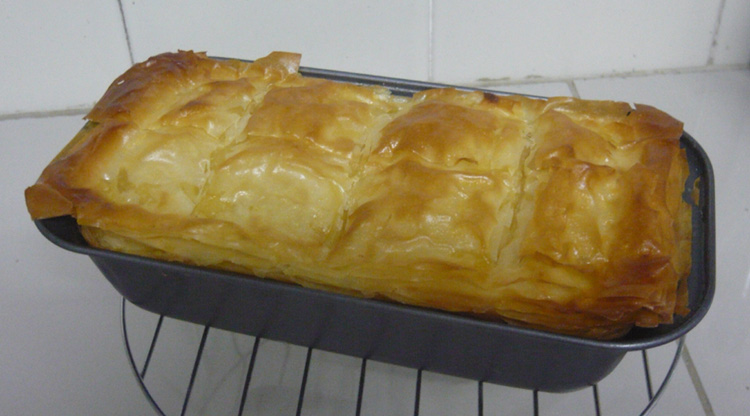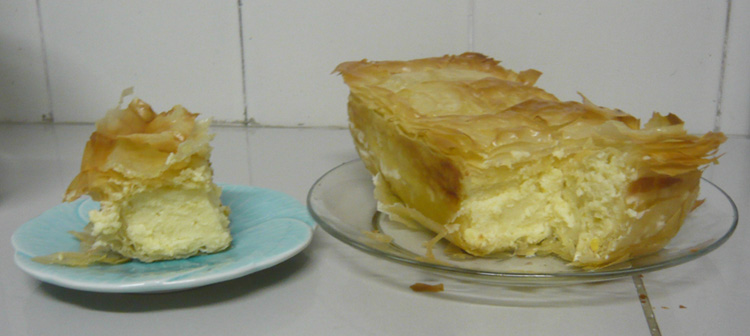 Save